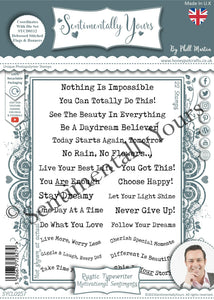 Phill Martin Sentimentally Yours A5 Clear Stamp Set - Rustic Typewriter Motivational Sentiments
Regular price £14.99 Sale
Designed by Phill Martin.
A5 clear stamp set.
Use with an acrylic block.
These sentiments are a brand new style and there are 3 A5 sets in the popular 'Essential' 'Occasional' and 'Motivational' themes, each with an impressive 22 stamps!
For the first time, there are 3 different types of sentiments in each set (border, one liner and curved) and each will work as stand alone sentiments and they will also fit perfectly with the new companion die set 'Debossed Stitched Flags & Banners' (SYCD0112) giving so many creative possibilities!
This is the Motivational Set that includes 22 uplifting, positive sentiments.