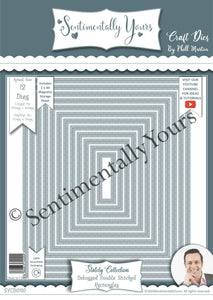 Phill Martin Sentimentally Yours Debossed Double Stitched Rectangles Die Set
Regular price £37.99 Sale
The Debossed Double Stitched detailing is a brand new look and it looks so good on these new dies, so elegant!
There are 2 different sized debossed stitches all the way around each and every die and, the debossed detailing is on the inside of the die and the outside!, which means you can now create frames with the detailing on both the inner and outer part of the die cut!
The debossing detail is a specialist procedure in the die manufacturing, which means we get the lovely debossed detail, but it does not cut through the cardstock.
Even better, these die sizes will coordinate with the same shape in all the other Stately Dies, so you can mix and match to get other layered effects too!
This is the Debossed Double Stitched Rectangles Set with 12 dies.
Largest Die - 199mm x 164mm
Smallest Die - 47mm x 15mm
Comes complete with an A4 Magnetic Storage Sheet too!