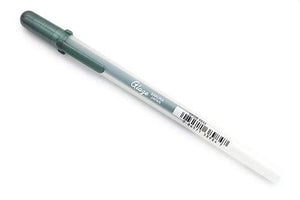 Sakura Gelly Roll Glaze Pen - Gloss Deep Green
Regular price £2.65 £2.35 Sale
This three-dimensional (3-D) ink leaves a distinct impression. The
finished effect is a raised, line that you can feel. Best results are
achieved on non-porous surfaces such as plastics, coated papers,
acetate, vellums and glass. 
Light catches colour when it is used on translucent and transparent
surfaces. Colour can be layered for extra texture giving greater shine
and depth. Glaze 3-D ink resists water and can achieve the look of
batik. Rubber stamp and paper craft projects benefit with accents of
colour and texture. Does not bleed-through most papers and vellum.
Non-toxic.